Butterfly Gel Cushion
This Item Has Been Discontinued, Please See our Listing of Available Seat Pads HERE!
Opened Wide or Doubled as needed!


16.5" wide x 13.5" long x 1" thick
Can be used:
on recumbent bicycles
on recumbent exercise bikes
rowing machines
The Butterfly Gel Cushion features a high-tech gel that is nontoxic and recyclable. It also provides superior comfort and durability. With long-lasting shock absorption and insulation from vibration and rebound, this gel seat provides maximum dissipation of pressure points with a relaxed feel. Its channeled/ribbed design maximizes protection of soft tissues, allows ventilated comfort and conforms to the user. Finally, the forward orthopedic tilt relieves back pressure.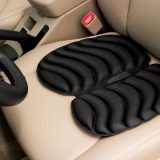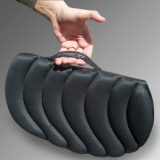 Unlike bulky seat cushions that are heavy or difficult to carry, this compact gel-filled cushion weighs only 2 1/2 lbs. The soft, pliant gel- and supportive foam-filled pads disperse weight across the width of the cushion, relieving point-of-contact pressure inherent in long periods of sitting (at a desk, behind the wheel of a car, in bleachers while viewing a sporting event and more). Thus, helping to prevent or lessen back strain as well as blood vessel and capillary constriction. For additional comfort, the center groove eliminates contact pressure on the tailbone and soft tissue. The surface slopes forward a gentle 5 degrees to encourage proper pelvic posture for correct lumbar curvature, while 16 small vented openings allow for adequate ventilation.

Buy one today and sit in comfort wherever you go!
Measures 16 1/2" Wide x 13 1/2" Long x 1" High.
or doubled 13 1/2 Wide x 8 1/4" Long x 2" High
Superior comfort
Durability
Long-lasting shock absorption
Insulation from vibration and rebound
Maximum dissipation of pressure points
Channeled/ribbed design for protection of soft tissues
Plenty of ventilated comfort
Conforms to the user
Relieves back pressure
Hidden handle for easy transporting
Great indoors or out
Your satisfaction is our goal.
If for any reason, you are not completely satisfied with your purchase, you may return it within 30 days from the date of shipment, as shown on your invoice, for a refund or exchange.